Super Foods for a Nutritious Diet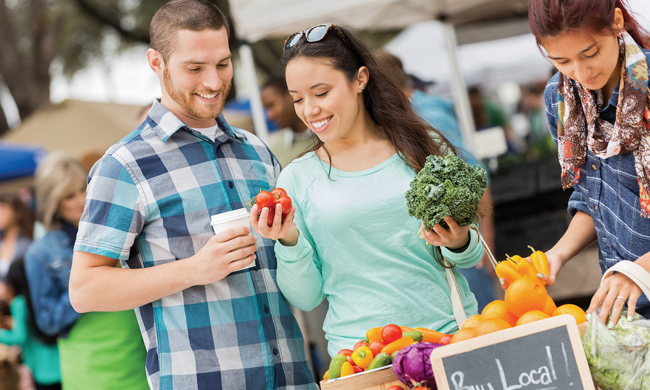 (Family Features) The health community has long praised the benefits of vitamins and nutrients derived from natural sources. For those looking to improve their health or take preventative measures, these 10 natural super foods can be incorporated into your daily diet to help support your health:
Green Tea – Armed with a special type of antioxidants called polyphenols, green tea can decrease plaque formed in the arteries and can fight prostate cancer.
Rosemary – Studies have shown this powerful spice can reduce the risk of stroke, as well as protect against Alzheimer's disease.
Almonds – Full of plant sterols and amino acids, almonds can help lower high cholesterol and promote muscle growth. These handheld treats are also rich in vitamin E, which can protect skin from sun damage.
Fatty Fish – Rich in omega-3 fatty acids, fatty fish such as salmon, flounder and sardines can lower the risk of heart disease.
Bananas – This easy, portable snack is loaded with essential potassium, which regulates the nervous system. Bananas also offer loads of vitamin B-6, which aids immunity and metabolism.
Whole Grains – These powerful body defenders have been known to boost immunity, protect against various cancers and reduce cholesterol.
Eggs – These energy-packed breakfast favorites contain a special type of protein that helps build muscle strength more than other proteins. When compared to other breakfast foods, eggs can also keep you feeling fuller longer with fewer calories and fat.
Spinach – Chock-full of magnesium, potassium and various vitamins and nutrients, spinach can prevent clogged arteries and protect against prostate and colon cancers.
Soy – This protein-packed food contains isoflavones, which can aid in treatment and prevention of prostate cancer. Also, research from the Food and Drug Administration shows that 25 grams per day can help lessen the risk of heart disease.
Dark Chocolate – Satisfy your sweet tooth and improve blood flow to the brain at the same time. Dark chocolate can also lower blood pressure and increase skin's resistance to UV rays.
Find more health-conscious tips at eLivingToday.com.
Photo courtesy of Getty Images
SOURCE:
eLivingToday.com
Take Steps Toward a Healthier Lifestyle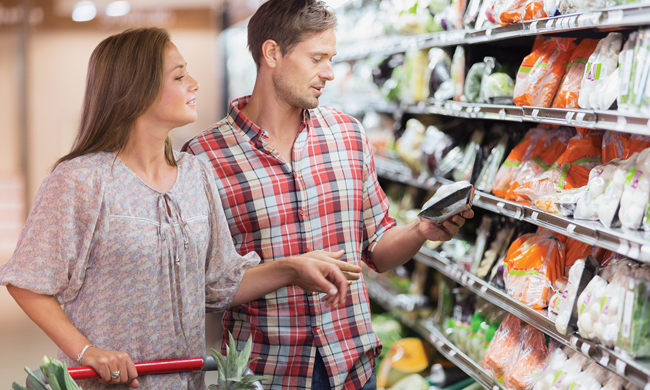 There isn't a better time than now to start getting fit with health information and products so easily accessible. Simply incorporate the basics into your daily routine – good nutrition, adequate exercise and a daily supplement – and start down the path toward better health.
Plan a Nutritious Diet
The Dietary Guidelines for Americans describes a healthy diet as one that emphasizes fruits, vegetables, lean meats, poultry, fish, beans, eggs, nuts, whole grains and fat-free or low-fat milk products. It should be low in saturated fat, trans fat, cholesterol, salt and added sugar.
Warm weather makes fresh produce more easily accessible. Eat more fruits and vegetables by setting freshly washed and prepared produce on the kitchen counter or at eye level in the fridge. At every meal, make sure half your plate is made up of fruit and vegetable servings.
One-fourth of your plate at every meal should be made up of grains, such as wheat, rice, oats, cornmeal or barley. People who eat whole grains as part of a healthy diet have a reduced risk of some chronic diseases.
The remaining one-fourth of your plate should be lean or low-fat cuts of meat, plant-based protein or seafood.
Get Regular Exercise
The Department of Health and Human Services recommends an adequate amount of exercise every day. This guide can point to the right amount of exercise to add to your schedule:
Get at least 150 minutes of moderate aerobic activity every week. For best results, spread the time out over several days.
Do strength training exercises at least twice a week. Lifting weights builds muscle, which means the body burns more calories – even at rest.
It's important to keep in mind that when people are active, they produce more free radicals. The antioxidants found in supplements can help buffer the negative effects of the workout.
Improving your diet, exercising regularly, taking a daily supplement and getting enough restorative sleep are all important steps to overall wellness. Work to incorporate each step into your daily routine until you reach your goal of good health, and find more health-conscious tips at eLivingToday.com.
Photo courtesy of Getty Images

SOURCE:
eLivingToday.com

The KETO Craze - Is it for you?

---

I have been amazed by how much interest there is in the KETO or Low-Carb Diet over the past couple of years. When someone has success in their weight loss program people start asking questions. The same thing has happened to me... Let me tell you my story about KETO.
In September of 2017 I noticed my son Charlie had lost a lot of weight and I started asking questions. He told me about the low carb plan he had been using to shed the pounds. Over a short 3-4 month timeframe he had dropped nearly 35 pounds. This success not only got my attention, but it also got me thinking.

As I contemplated my need to lose weight, I thought that if my son could do it, I could do it as well. But, as usual, I put it off till Monday, then the next Monday and the next Monday. What was the breaking point? On October 24, 2017 I came face to face with a bowl of Halloween candy sitting on a table awaiting any possible trick or treaters we might have. The good thing was Halloween was a week away. This gave me plenty of time to replenish the bowl of candy should something happen to our current stash. This gave me a logical reason to grab a handful of tiny treats and retreated to the couch to watch TV. After three trips later I became so disgusted with myself and realized enough was enough. To make things even worse, I reached over to untie my shoe and suddenly realized I was struggling to bend over. This was the final blow and I actually became mad. Not only was I mad at myself for not taking care of my body for the past 15 years but also mad at myself for not being able to pull the trigger and do the right thing. That Tuesday night I said STOP! At that moment I changed my mindset and replaced my craving for food to a craving for health.
Immediately I started searching the internet for the KETO diet and Low Carb Diet plans. I suddenly realized that I could do it. As I began to read the many success stories and saw the actual plan of action I put my game plan together. To make a long story short, as of June 12th, 2018 I have lost 62 lbs. and 3 pant sizes. My energy level is back like it was 30 years ago and my overall health has made a drastic turn around. My Cholesterol level has dropped over 50 points and my blood pressure is nearly perfect. This can happen to you as well.

Here is how I did it:

My goal was to only consume 25 grams of net carbs per day and get my body into Ketosis. (google it)
My typical day always starts with a cup of black coffee (to go) as I leave for work. I continued this tradition but I added a little twist to provide some protein in the coffee by adding about one ounce of Atkins chocolate shake stirred into my coffee. This added a nice touch of chocolate and provided me with a shot of protein into the mix. Protein has been a key ingredient to my success using this diet plan so this added little treat to my coffee added a small bit of protein that I wasn't normally getting.

During the mid- morning I will eat a small Atkins nutrition bar as a snack to satisfy any cravings I have. Most of these bars are tasty and only have 3-5 grams of net carbs. Lunch has been typically a salad (less carrots) with turkey, ham or chicken added for protein with cheese added for fat intake. When you reduce your carb intake you need to increase your fat intake to fuel your body. One thing about the diet is the fact that you can eat most any kind of meat or fat (within reason) and still take off the pounds. Other lunch items I found to be satisfying are: Sandwich meats with cheese and throw in a pickle or other vegetables like cucumbers or tomatoes. There are lots of choices you CAN eat. Focus on what you CAN eat rather than what you CANNOT eat. A list of CAN EAT items are on the side of this page to use as a guide.

In the afternoon I would eat or drink another Atkins product for the protein. Sometimes a hand full of nuts were nice just to change things up.
Tip: Drink plenty of water or other fluids to stay hydrated like most other diets.

Dinner consists of eating a nice portion of whatever meat we had on the menu along with adding green beans, cabbage, cauliflower or asparagus. There are lots of veggies available that are on the CAN EAT list to pick from. Pick your favorite and eat till you are satisfied.
Nightime has been the biggest challenge. This is where I really had to work hard. My favorite is to treat myself with popcorn. NOT Microwave Popcorn, but real popcorn like my mother popped when I was a kid. I use a pot on the stove with a small amount of vegetable oil and add real melted butter as a topping.(two tablespoons) Most of the time I will eat about 3 cups or less, but this is enough to help me get out of the habit of eating junk food until bedtime. (Which has been my real weakness).

This plan may not work perfectly for you, but it has for me. The key to the KETO - Low Carb diet is figuring out what works for you. One thing for sure is that eliminating all of those excessive carbs from your diet will eat away all of that stored fat. Your body begins converting fat into carbs instead of consuming the carbs you have been feeding it. Its chemistry! It works!

Before you dive into this type of plan I would highly recommend that you consult your doctor first. There are thousands of resources online that give advice, diet plans and explanations of the KETO - Low Carb diet. Do your own research and come up with a plan. BUT, you must GET MAD, GET COMMITTED and stick with it. Don't wait till MONDAY… MONDAY never comes.

Good Luck and God Bless,
David Thomas


KETO Menu

---

Here is a list of what you CAN eat on KETO and be successful.

Meats: Alligator, Bacon, Beef, Beef Jerky (watch the sugar counts on these), Bison, Chicken, Clams, Crab, Duck, Eggs, Fish (no Talapia), Goat, Ham, Hot dogs, Lamb, Lobster, Mussel, Oysters, Pheasant, Pork (sausage included), Quail, Rabbit, Scallop, Shrimp, Turkey. Avoid breading on fried meats

Vegetables: Alfalfa Sprouts, Asparagus, Artichoke, Arugula, Avocado, Banana Pepper, Broccoli, Brussel Sprouts, Cabbage, Cauliflower, Celery, Chard, Collard Greens, Cucumber, Eggplant, Green Beans, Jalapeno Pepper, Lettuce, Mushrooms, Mustard Greens, Okra, Radish, Spaghetti Squash ,Spinach, Summer Squash, Turnips, Zucchini

Dairy: Blue Cheese, Butter, Cheddar Cheese, Colby Jack Cheese, Cottage Cheese, Cream Cheese, Feta Cheese, Goat Cheese, Gouda, Heavy Whipping Cream, Mozzarella Cheese, Parmesan Cheese, Provolone Cheese, Ricotta, Sour Cream, Swiss Cheese, Unsweetened Greek Yogurt, Unsweetened Plain Yogurt

Fats & Oils: Animal Fats, Avocado Oil, Butter (real), Cocoa Butter, Coconut Oil, Flaxseed Oil, Hemp Oil, Lard, Mayonnaise, Olive Oil, Palm Oil, Peanut Oil, Sesame Oil, Tallow, Tea Seed Oil, Walnut Oil.

Fruits: Blackberries, Blueberries, Cherries, Cranberries, Cantaloupe, Honeydew Melon, Kiwi, Raspberries, Strawberries

Nuts & Seeds: Almonds, Brazil Nuts, Cashews, Coconut, Hazelnuts, Macadamias, Peanuts, Pecans, Pine Nuts, Pistachios, Pumpkin Seeds, Sesame Seeds, Sunflower Seeds, Walnuts

Drinks: Broth, Club Soda, Coffee, Cream, Diet Soda, Dry Wines, Herbal Tea, Unsweetened Almond Milk, Unsweetened Tea, Water